ROMANCE...What Does Romance Mean To You?
Roses, Soft Kisses, a Cuddle, Walking Hand in Hand on the Beach, Toes in the Sand, A Romantic Dinner, A Gentle Touch of the Hand Across the Face, Gazing Into Each Others Eyes, Chocolate, Candle Light, Bubble Bath, Love Letters, Thinking of You Cards, Soft Whispers in Your Ear, Flower Petals, Soft Music, ....Romance is ENDLESS!
Welcome to the Romance the Stars Video page!
Here you will get a glimpse into the most romantic reality show ever! We will add some video of the show on this page soon.
This Reality Show is where "real people" get to meet the Stars....and the Stars have the chance to meet "real people". Everyday people will see if they can meet the challenge of a Stars life. Is this for you? Can you take it? Can you deal with the fast pace of a Star's life?
Is your normal life enough or have you always wanted more? Who would your "star" dream date be, if you had a choice? Life may never be the same!
Soon, you will be able to sign up to be a candidate for the show.
You will have to meet our strict guidelines and background check.
If you think you can handle all the pressures that a Star faces, and want to have a chance to be on the show, please continue to check back. We will soon have a contact page with the guidelines.
So, stay tuned as we reveal the most romantic reality show ever!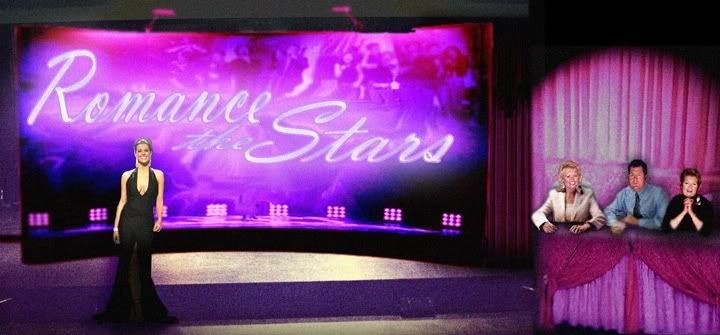 Miss Chelsea Cooley,
Miss USA 2005
and the Judges
Are you interested in knowing more about this REALITY SHOW?
Want to be a potential candidate on the show?
Are you a Star/Celebrity that is interested in the show?
Then email us and we will keep you updated and informed and put you on the mailing list. We will contact potential candidates and Stars/Celebs wth information on how to apply!
COME JOIN IN ON THE ROMANCE!
Are you SINGLE? Are YOU looking for ROMANCE?
Email us NOW!
RTSPRODUCER@GMAIL.COM